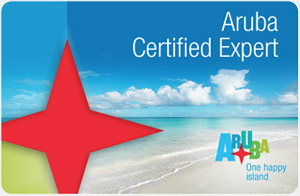 Click the above icon to become an ACE agent
Please note: this is only valid for NA agents

Click the above icon to become an ACE agent
Please note: this is only valid for LA agents
Aruba specialist program for EU agents
Visiting Aruba soon?
Click this link for our travel agent incentives.

Aruba's key selling points
Dear Valued Travel Partner, As we say in our native language of Papiamento, Masha Danki,
Thank you, for your nonstop support and passion for travel to Aruba. As industry experts, you have a great understanding of the many experiences that truly make Aruba the One Happy Island. Being one of our esteemed travel partners we encourage you to share in all that makes the island unique with your clientele.
This website is tailored especially for you our valued partner, providing all the information that you need for your clients on what is happening on our one Happy Island and any special offers provided by Aruba that you can take advantage of during travel to our destination year round. We encourage you to visit this page often to stay updated with our destination.
Surrounded by turquoise Caribbean waters, Aruba's beaches can satisfy all the needs of your diverse clients, ranging from wide shaded expanses and quiet retreats to action-packed areas. Palm Beach, Aruba's most renowned seaside retreat, is the latter with its glamorous high-rise hotels and areas dotted with water sport concessions, piers, beach bars, restaurants and shops. Beyond the pristine beaches our twenty-eight opulent hotels and resorts are home to championship golf courses, luxury spas and vibrant casinos. With an extraordinary international and local culinary scene, exclusive array of  shopping  boutiques, art galleries, museums, and clubs featuring live music, Aruba offers a truly  unique Caribbean experience. Additionally, the island offers events year-round with a full lineup of some of the Caribbean's most exciting celebrations, festivals, and sporting competitions which include  Aruba's annual Carnival Celebration from January to March.
Aruba is an ever-evolving premier destination, one that continues to offer some of highest quality products and services within the Caribbean. Efforts to continue to build on an enriched experience focus on beautification, enhancing the product quality and following a path of an integral sustainable development. Furthermore, the annual Green Aruba conference and conversion towards alternative energy will enable Aruba to be a leader in the area of alternative energy and the application of green practices.
We thank you for your valued support and look forward to sharing the evolving Aruba with you!
Warmest Regards, Aruba Tourism Authority
For more information about Aruba, please visit www.aruba.com